A microblog contains very short posts and the concept is the same as a regular blog, except it's a whole lot shorter.  You can post pictures, a few words, a sentence or a link to a social networking sharing site. It is organized with the most recent post at the top.
We will focus on three popular platforms:
---
Tumblr
What is Tumblr?
How to set up a Tumblr account:
1.      Go to www.tumblr.com. Click the Sign Up button in the top right hand corner.
2.      Fill in your email address; make a password and a username. The user name will have to be unique and you may have to try a few times to find a name that is not already used. This username will be visible to everyone.
3.      Next, fill in how old you are, and check the box to make sure you have read and understand the terms of service.
4.      Finally, you will fill in a Captcha box from the words shown on the screen. This is to prove you are not a robot.
5.      You now have a Tumblr blog. The dashboard is where you can create a post or find blogs to follow.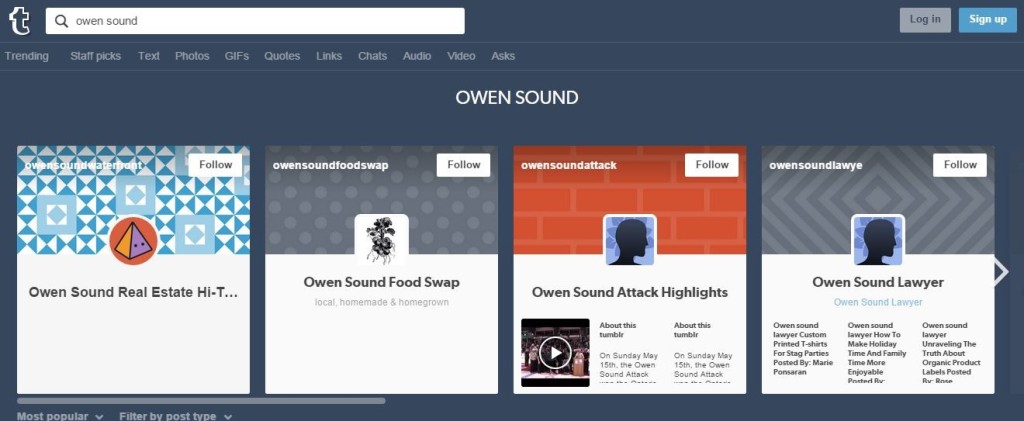 For more instructions, see: How to Use Tumblr
---
Pinterest
What's Pinterest?
Pinterest calls itself: "The visual bookmarking tool that helps you discover and save creative ideas." A Pin is a visual bookmark. Anything on the web can be a pin.  You can then group your favourite things, the pins, onto boards. Your boards are groups of things with the same topic or a collection of how you'd like to sort and store your bookmarks.
How to set up a Pinterest account:
1.      Go to www.pinterest.com
2.      Enter your email address, create a password and Click on Sign Up.
3.      Enter your name, age and check whether you are male or female and select the "Come on in" button.
4.      You will need to select 5 things that interest you from the list provided.
5.      You can select who you want to follow, like your friends from Facebook, or you can Skip this step.
6.      Finally, it will ask you to select the Pinterest Button. This button will then be visible every time you are on the web. You can skip this step.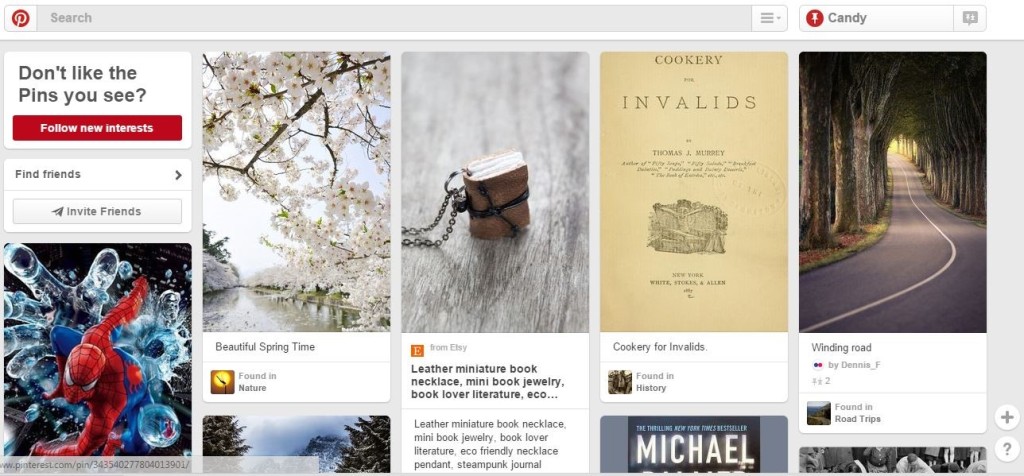 For more, see this Pinterest 2015 Tutorial:
---
Twitter
Twitter can be used as a breaking news source rather as well as a social network. It is a place used for networking and discussion based around interests.
You can follow celebrities to see what they are doing or you can find out why the road is closed up ahead – in real time.  It provides a stream of quick updates from friends, journalists, and experts.
It empowers people to become amateur journalists, describing something that they found interesting. It allows everyday people to join in conversations with musicians, politicians or news events.
What you post is called a 'Tweet' and these real-time messages are limited to 140 characters or less.
How to set up a Twitter account:
1.      Got to www.twitter.com and click on Sign Up.
2.      Enter your full name, email address and a password you would like to use.
3.      Next, you have to choose a user name that is unique. This is your Twitter handle and how people can search for you.
4.      Click on sign up and Let's go!
5.      Select a few interests from the menu to help get you started.
6.      Follow some suggested twitter accounts.
7.      Now is the chance to personalize your account. Upload a photo to show your unique personality.
8.      Find people you know: it can connect to your Gmail account to see if anyone else in on Twitter that you can follow.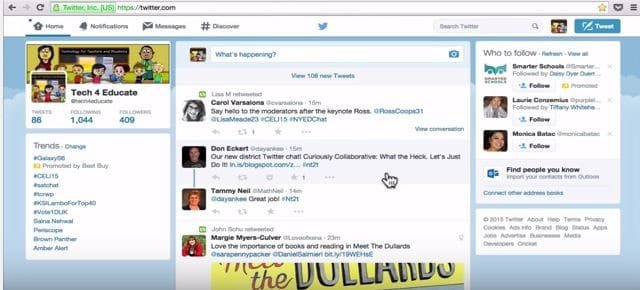 Beginner's Guide to Using Twitter 
---
Activity 5: Microblogs
1.      Set up an account on one of the above sites; Tumblr, Pinterest or Twitter.
2.      Find and follow 5 other users who microblog information about education.
3.      Review your privacy settings with an instructor before beginning to post.
4.      Make a new blog post on Blogger about why you chose the microblogging site you did and how it might help you with your learning goals.
Or, click here to return to the main menu for Twenty-First Century Learning.